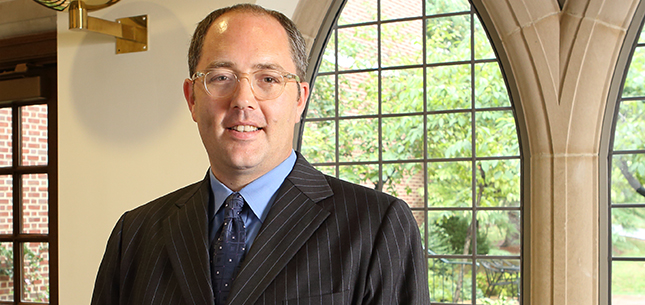 Roger V. Skalbeck
Professor of Law
Associate Dean for Library and Information Services
Profile
Roger V. Skalbeck is a Professor of Law and the Associate Dean of Library & Information Resources. He teaches legal research, applied practice technology, and copyright law.  He is a frequent presenter on legal technology at national conferences, and he writes about libraries, technology, and intellectual property. Dean Skalbeck is on the Board of Directors for the Center for Computer-Assisted Legal Instruction (CALI), a member of the Virginia Access to Justice Commission's Committee on Self-Represented Litigants, and a member of the Legal Scholarship Advisory Board for LawArXiv. He was formerly an Adjunct Professor and Associate Librarian at Georgetown Law Center, where he co-taught a seminar on Technology Innovation and Law Practice.
Presentations
Presenter, "Taking the Lead on Teaching Legal Technology: Opportunities and Challenges," American Association of Law Libraries Annual Meeting, Chicago (July 2016).
Presenter, "Emerging Trends in Legal Aid Technology," Legal Aid Attorneys & Staff, Virginia Poverty Law Center (Oct. 2016).
Professional Experience
Associate Law Librarian for Electronic Resources & Services (2006-2015)
Georgetown Law Library, Washington, D.C.
Adjunct Professor (2011-2015)
Georgetown Law Center, Washington, D.C.
Technology Services Librarian (2000-2006)
George Mason School of Law, Arlington, Va.
Electronic Services Librarian (1999-2000)
Howrey LLP, Washington, D.C.
Systems Librarian (1998-1999)
Williams & Connolly, Washington, D.C.
Knowledge Analyst (1997-1998)
Schwegman, Lundberg, Woessner & Kluth, P.A., Minneapolis, Minn.
Publications
Articles
Law and Technology Podcasts, N.J. Lawyer, Dec. 24, 2007, at S4.
Don't Dilute my Coffee! Federal Trademark Dilution and Likely Legislative Changes, Legal Information Alert, June 2006, at 1, 4-6.
Did You Use Westlaw Enough For That Free iPod? -- What Recent Graduates May (or May Not) Know About Legal Research, Legal Information Alert, vol. 24, no. 7 July/August 2005 (with Iva M. Futrell).
Isn't that Patented Trademark Under Copyright Protection? infoEdge (Thomson/West), vol. 5, no. 1, Spring 2004.
Computing Efficiencies, Computing Proficiencies & Advanced Legal Technologies, Virginia Lawyer, vol. 50, no. 3 (October 2001, p.24-26).
Legal Software Review Sources and Related Sites to Help Meet Law Practice Technology Needs, Virginia Lawyer, vol. 49, no. 9 (April 2001, p.55,58).
Casting a Wide Intranet, Legal Times, Week of July 19, 1999. S26-27 (Special Supplement: Expanding Horizons: New Frontiers for Law Firm Librarians) (with Sabrina Pacifici).
Chapters
Fastcase, in A Guide to Legal Research in Virginia (Virginia Law Foundation, 2017).
Additional Publications
Contributed to: Introduction to Online Legal, Regulatory & Intellectual Property Research (1st Ed.) South-Western Press, October 2003, ISBN: 0-324-20315-2.
Former editor of "Tech Talk" column for Law Library Lights (2003-2015); former monthly editor for "Notes from the Technology Trenches" for LLRX.com from September 1999 through June 2001.