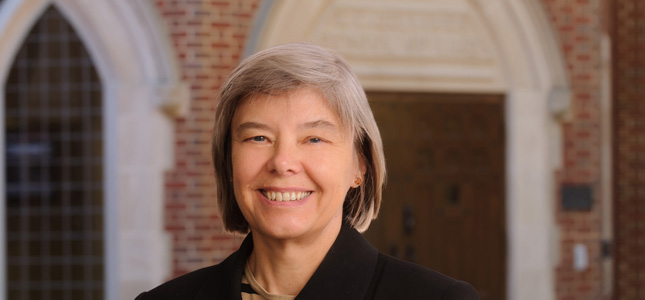 Profile
Professor Mary Heen specializes in the areas of tax law and policy, legislation and regulation, and feminist legal theory. Her scholarship has appeared in the Yale Journal of Law and Feminism, Wake Forest Law Review, Hastings Law Journal, North Carolina Law Review, and Ohio State Law Journal, among other venues. From 2006 to 2008, Professor Heen served as General Counsel of the American Association of University Professors. She has also been a Visiting Professor of Law at the Washington & Lee University School of Law and New York University School of Law. Professor Heen is a recipient of the University of Richmond's Distinguished Educator Award. 
Presentations
Panelist, "AALS Arc of Career Program - Transitions," AALS Annual Meeting, San Francisco, Calif. (2017).
Commentator, "Comments on Shennette Garrett-Scott, Invincible Daughters of Commerce: The Independent Order of St. Luke and Black Women in Finance, 1900-1940s," Davis Seminar Series: Risk and Fortune, Princeton University (Nov. 2016).
Presenter, "Anti-Discrimination Efforts in Insurance," Federal Advisory Committee on Insurance, Federal Insurance Office, U.S. Department of the Treasury, Washington, D.C. (May 2016). 
Bar Admissions
California
Alaska
New York
Massachusetts
Associate Member of Virginia State Bar
United States Supreme Court
United States Courts of Appeals for the Ninth and Second Circuits
United States District Courts for the Southern District of New York and the Northern District of California
United States Tax Court
Professional Experience
Professor of Law (1998-2016)
University of Richmond School of Law, Richmond, Va.
Associate Professor of Law (1995-1998)
University of Richmond School of Law, Richmond, Va.
Assistant Professor of Law (1992-1995)
University of Richmond School of Law, Richmond, Va.
Visiting Professor of Law (2009)
Washington and Lee University, Lexington, Va.
General Counsel (2006-2008)
American Association of University Professors, Washington, D.C.
Acting Assistant Professor of Law (1990-1992)
New York University, New York, N.Y.
Associate Attorney (1987-1990)
Patterson, Belknap, Webb & Tyler, New York, N.Y.
Staff Counsel (1980-1986)
National Office, ACLU, New York, N.Y.
Law Clerk (1978-1979)
Hon. James M. Fitzgerald, United States District Court, Anchorage, Alaska
Publications
Essays
A Call to Action on Post-Garcetti Policy Revisions, Virginia Conference AAUP Newsletter (November 2010).
Should Controversial Outside Speakers Be Restricted on Campus?, Co-authored with Robert C. Post, Trusteeship magazine of Association of Governing Boards of Universities and Colleges (September/October 2006).
The Child Tax Credit (§101), in The Taxpayer Relief Act of 1997, a joint publication of the ABA Section of Taxation and the ALI-ABA Committee on Continuing Professional Education, at I-D-11 (Jerald David August, ed., 1998).
Sex Discrimination, Mortality Tables and Pensions: Improving the Economic Status of Older Women, 11 Women & Health 119 (1986). [Journal]
Insurance Rates Must Change, Perspective (op-ed), Chicago Tribune, §1, p. 15 (May 3, 1983).
In the News
How your race affects your car insurance rates (Attn.com)
Sun., Apr. 9, 2017
"Anti-Discrimination Efforts in Insurance," Federal Advisory Committee on Insurance, U.S. Department of Treasury, Washington, D.C
Thu., May. 26, 2016
"Prices and Personhood: Gender, Race, and the Social History of Risk-Based Pricing," Institute for Research on Women and Gender, University of Michigan
Tue., Nov. 3, 2015
A taxing question (Virginia Business)
Wed., May. 29, 2013